1958 - 1966
New Techniques and Forms, Increasing Recognition
During a 1958 sojourn in Spain and France, Motherwell developed his stark and somber Iberia paintings and in the following years further expanded the range of his imagery. Inspired in part by his marriage to Helen Frankenthaler, he did a number of large stain paintings and created the spontaneously executed Beside the Sea and Lyric Suite series. During this period, his work gained wide recognition and he was given solo exhibitions at major museums.
1958
In January, Motherwell completes Elegy to the Spanish Republic XXXV, begun in 1954, and Jour La Maison, Nuit La Rue.
Motherwell's divorce from Betty is finalized on March 20.
1958
On April 6, Motherwell and Frankenthaler are married in New York on Easter Sunday.
1958
In April, Motherwell's Black and White with Yellow is included in Osaka Festival 1958: The International Art of a New Era, U.S.A, Japan, Europe at the Takashimaya Department Store, Osaka. The exhibition is the first to show the artists of the Japanese Gutai group, European Art Informel, and American Abstract Expressionism side by side.
1958
The New American Painting, organized by the Museum of Modern Art, includes six paintings by Motherwell. The exhibition opens in Basel in April and over the next year and a half will travel to Milan, Madrid, Berlin, Amsterdam, Brussels, Paris, London, and New York.
1958
Motherwell and Frankenthaler sail to Spain on June 13. Because of Motherwell's opposition to the Franco government, he initially resisted Frankenthaler's suggestion that they visit the country, but Frankenthaler, who had traveled there twice before, insisted on the need for him to see the paintings in the Prado and the caves of Altamira.
They visit Alicante, Granada, Cordoba, and Seville before driving to Madrid.
In mid-June, Motherwell and Frankenthaler go to Madrid to see The New American Painting exhibition.
1958
While in Madrid, Motherwell receives a cable informing him that the Spanish authorities have refused to show Elegy for the Spanish Republic XXXV in The New American Painting exhibition unless Motherwell changes the title. Motherwell refuses, and the U.S. Embassy advises Motherwell to leave Spain immediately.
1958
On their last night in Madrid, Motherwell creates the four drawings of the Madrid series.
1958
Motherwell and Frankenthaler leave Madrid and settle in Saint-Jean-de-Luz, France, a small fishing village on the Atlantic coast. They rent a large villa where they can both paint, and where they will stay until late in the summer.
During their time there they visit the caves at Lascaux and Altamira (crossing back over the Spanish border to see the latter) and attend a bullfight in Biarritz, which makes a deep impression on Motherwell, and inspires his series of Iberia paintings.
1959
In January, The Wedding is included in 8 American Painters at the Sidney Janis Gallery. Motherwell painted this work in New York right before he married Helen Frankenthaler. Its composition is similar to the Two Figures series, which Motherwell associated with images of himself and Frankenthaler.
1959
In March, Motherwell's second solo exhibition at the Sidney Janis Gallery presents sixty-eight works from 1958 and 1959 including most of the works from the previous summer in Saint-Jean-de-Luz.
1959
In April, Motherwell's first museum retrospective, organized by E.C. Goossen, opens at the New Gallery, Bennington College, Vermont.
1959
Documenta II in Kassel, Germany, features five works by Motherwell.
1959
In late August and early September, Motherwell and Frankenthaler spend several weeks traveling in Canada by car. Motherwell brings back packaging for Sea Lion brand sardines that he will incorporate in several new collages.
1960
In February, Motherwell resigns from Hunter College to concentrate on painting full time.
1960
In July and August, Motherwell and Frankenthaler rent a villa in Alassio, Italy.
1960
Inspired by the locale, Motherwell creates the first works in the Summertime in Italy series and begins the eighteen-foot-wide painting The Voyage: Ten Years After, which incorporates the pouring and staining techniques used by Frankenthaler.
1960
Motherwell purchases from Betty Little the house in Provincetown that they shared.
1960
Motherwell rents a large studio at 173 East Eighty-third Street, where he soon completes a number of large works.
1961
In January, Motherwell is one of the signers of "In Support of the French Intellectuals," published in January in Partisan Review, a statement in defense of individuals being persecuted for speaking out on behalf of the victims of France's war in Algeria.
Motherwell's essay "What Should A Museum Be?" appears in the March-April issue of Art in America.
Motherwell and nearly fifty other cultural figures sign a letter to the editor of the New York Times protesting the hostility towards modern art of the newspaper's art critic John Canaday.
1961
In the spring, encouraged by Frankenthaler, Motherwell makes his first lithographs at Tatyana Grosman's Universal Limited Art Editions (ULAE).
This marks the beginning of Motherwell's intense engagement with printmaking.
1961
Installation view of Robert Motherwell at the Sidney Janis Gallery, April 1961.
From left to right: Elegy to the Spanish Republic No. 58,  Greek Collage, Painting, and Black on White
1961
That summer, Motherwell and Frankenthaler rent the Days Lumberyard building in Provincetown, each using an entire floor of the building as a studio.
"
The huge floors were undivided, and perfectly suited for the enormous formats of the paintings we were both accustomed to. The barn was beautiful to behold then, shingled, with arched barn doors on each floor…windows on all sides."
Robert Motherwell
1961
In the fall, Motherwell represents the United States at the VI Bienal de São Paulo. Frank O'Hara curates his retrospective exhibition there of thirty-four works dating from 1941 to 1961.
1962
Motherwell rents a 5,000-square-foot former pool hall at Eighty-sixth Street and Third Avenue for use as his studio.
1962
In February, Robert Motherwell: A Retrospective Exhibition opens at the Pasadena Art Museum. On March 6, Motherwell lectures at the museum, drawing overflow crowds.
1962
In August, Motherwell purchases a property at 631 Commercial Street, on Provincetown Bay, where he and Frankenthaler plan to build their own studio building. His contemplation of the site, where the break wall is lashed by the incoming tide, inspires the Beside the Sea series.
1962
Toward the end of the year, Motherwell begins Elegy to the Spanish Republic No. 100, the largest work in the series to date at 7-by-20-feet.
1963
In January, a retrospective exhibition of Motherwell's work is presented at the Smith College Museum of Art, featuring twenty-nine works, including Mallarme's Swan.
1963
In February, the New Gallery at the Massachusetts Institute of Technology presents Robert Motherwell, an expanded version of the exhibition held at Smith College that January.
1963
In the spring, Motherwell creates the large-scale, richly colored canvases Dublin 1916, with Black and Tan, The Dordogne, and In Green and Ultramarine.
1963
In April, Motherwell creates A Throw of Dice, a series of gestural lithographs at ULAE. The series gets its title from Stéphane Mallarmé's poem Un coup de dés of 1879
1963
In June, Motherwell, mark Rothko, and Philip Guston leave the Sidney Janis Gallery. Motherwell and Rothko join the Marlborough-Gerson Gallery, which is building the largest gallery space in New York at 41 East Fifty-seventh Street and will open in November.
1963
Motherwell and Frankenthaler spend the first summer in their new studio in Provincetown. The building, which he names the Sea Barn, has living quarters on the ground floor and two open floors for use as studios.
1964
In April, Painting & Sculpture of a Decade: 54-64 at the Tate Gallery in London includes two elegies and In White and Yellow Ochre.
1964
Motherwell's studio building at Eighty-sixth Street and Third Avenue is condemned by the city of New York, forcing him to abandon it on short notice.
That summer in Provincetown, much of Motherwell's time is spent in discussions with the poet and curator O'Hara, who is organizing an upcoming retrospective of Motherwell's work for the Museum of Modern Art.
1964
Chi Ama, Crede, Elegy to the Spanish Republic No. 77, and the recently completed Summertime in Italy No. 7 (In Golden Ochre) are included in Documenta III in Kassel, Germany, which opens in June.
In December, Bryan Robertson of the Whitechapel Art Gallery, London, interviews Motherwell for Art: New York.
1965
In January, Collages by Robert Motherwell is opens at the Phillips Collection, Washington D.C. It is the first museum exhibition devoted exclusively to his work in collage.
1965
In the spring, Walter Gropius approaches Motherwell with a proposal for a large mural for the John F. Kennedy Federal Building he is designing in Boston.
1965
In April and May, Motherwell paints the Lyric Suite, a series of over six hundred ink on paper works that comprise his most sustained series of automatist works.
1965
Motherwell stops work on the Lyric Suite on receiving word of his close friend David Smith's fatal car accident on May 23 in upstate New York.
After Smith's death, Motherwell never returns to work on the Lyric Suite and stops painting altogether until after the opening of his Museum of Modern Art retrospective in September.
1965
That summer, Motherwell, Frankenthaler, and his daughters spend a month traveling in Europe. They visit Paris, Venice, Athens, the Greek Islands, and London.
1965
Robert Motherwell: Works on Paper, organized by the Museum of Modern Art, opens at Duke University on September 20. The show travels to eighteen venues during the next two years.
1965
Robert Motherwell, a retrospective exhibition curated by O'Hara, is shown at the Museum of Modern Art.
The exhibition includes eighty-seven works from 1941 to the present, and travels to Amsterdam, London, Brussels, Essen, and Turin, through October 1966.
On November 22, the Foundation for the Arts, Religion, and Culture sponsors "frankAn Evening with Robert Motherwell" at the Museum of Modern Art. The panel discussion, on the relationship of modern art to religious buildings, features Motherwell in conversation with Ad Reinhardt, Dr. David Read of Madison Presbyterian Church, and Dominique de Menil.
1965
H.H. Arnason's "On Robert Motherwell and His Early Work" is published in Art International, the first in a series of four articles by Arnason offering a detailed overview of Motherwell's career (the other articles appear in April 1966, summer 1969, and October 1976). In 1977, Arnason will publish a monographic book on Motherwell based on these articles.
1966
Motherwell is one of nearly two hundred artists who submit a panel to the Artists' Tower against the War in Vietnam, also known as the Peace Tower, in Los Angeles.
1966
On July 25, O'Hara is killed after being struck by a car on Fire Island. Motherwell and Frankenthaler attend his funeral in Sag Harbor.
1966
Motherwell paints two versions of the large mural for the John F. Kennedy Federal Building in Boston. In May, he and Gropius choose the painting that will be installed in the building and Motherwell titles the work New England Elegy.
In August, Motherwell oversees the installation of mural, which creates a public furor when a rumor spreads that it is a depiction of the assassination of Kennedy. Public statements from Motherwell notwithstanding, the controversy only dies down following the release of a statement from Sen. Edward M. Kennedy in support of Motherwell's abstract mural.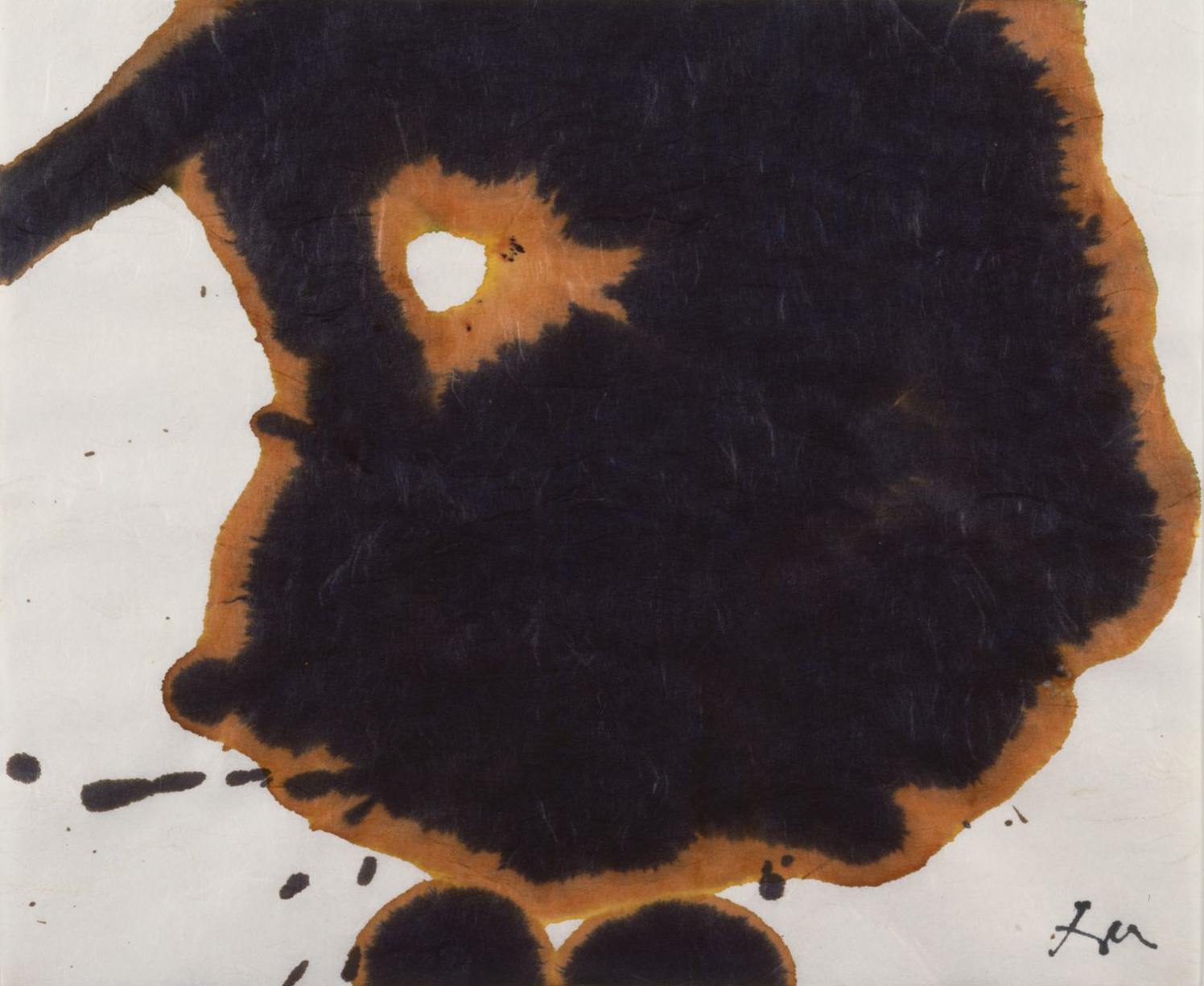 Next Timeline Chapter